(Click the underlined text below for audio)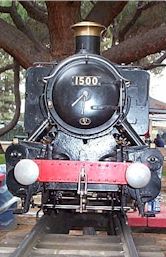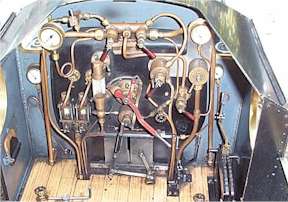 It is a crisp, clear October morning. The oppressive heat of the Summer has given way to cool Autumn breezes. Out in the west end, many of the trees have begun to change color, and a carpet of fallen leaves litters the ground.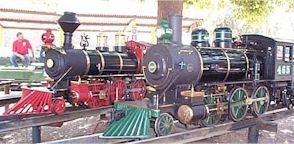 There are three locomotives lined up on the steaming bays. An occasional wisp of gray smoke can be seen as they simmer quietly, waiting for pressure to build. The acrid smell of coal smoke fills the air. Suddenly, the quiet stillness of morning is interrupted by the blast of a safety valve. S.P. 3017 is up to pressure and is ready to pick up some cars.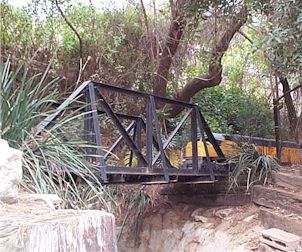 Although it is very early, there is already heavy traffic on the mainline. Far in the distance, the lonely sound of a diesel horn can be heard calling out its warning. The rumble of the engine grows louder against the tunnel walls, and soon a train emerges. It's a behemoth U.P. DX class. A few minutes later, the last car passes through the sleepy logging town, and the sound of the throbbing engines is once again replaced by silence.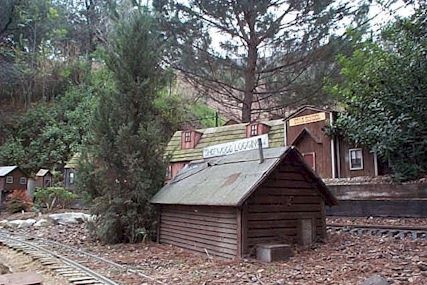 The train is headed for Minden, a ghost town in the mining territory. Although Minden seemed doomed to a fate of desolation, it is currently undergoing a revitalization, as some new buildings have recently sprung up -- thanks to the efforts of Dr. Pedro.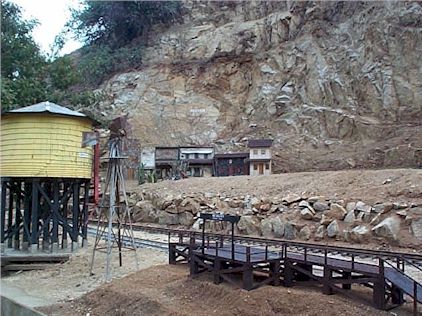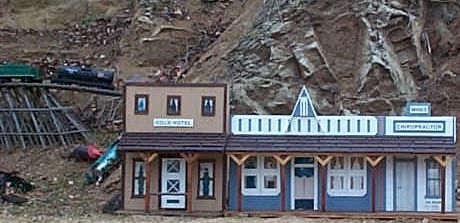 Back in Sutchville, top-notch engineer Dick Brennan brings his train through for an inspection run before loading it with passengers: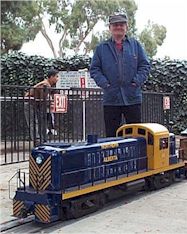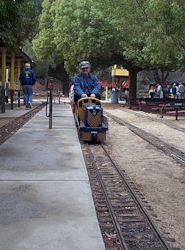 While we're here, let's check out the incredibly detailed storefronts at Sutchville, compliments of master prop builder Gary Baker: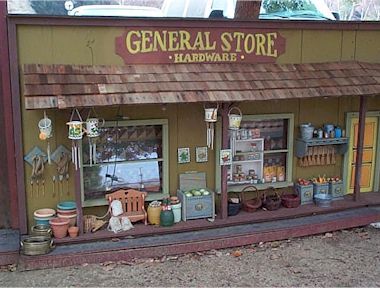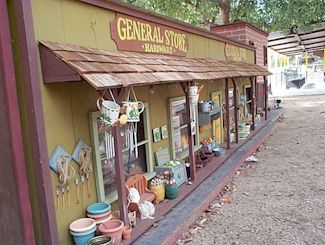 The time has come to take on passengers. The front gate is swung open, just as it is every Sunday (weather permitting), and happy passengers eagerly board the waiting trains. Engineer Bill Goglin is ready, and so is his brand-spanking new S.P. Alco C-415 from Rail Systems. Here is Bill with his first load on the C-415: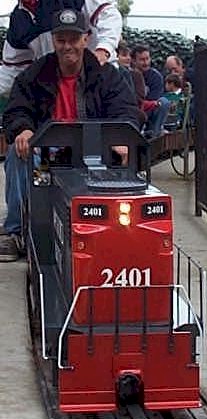 Moments later, a steamer chugs past the crossing.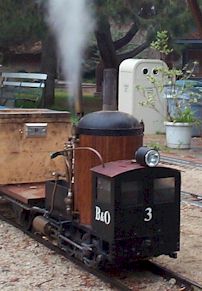 End O' The Line